Hi, Everyone! If your kiddos are anything like mine, then I'm sure your classroom has been buzzing about the Superbowl. To be honest, unless it's the Bears playing, I don't really pay attention. I think the many losing football games I was forced to sit through when I coached cheerleading has really lowered my interest in the sport. Baseball, however, I still love to watch.
Anywho, I thought I'd throw the boys a bone and do a craft that they'd be excited about. Oh, and were they excited! I'm sure you've seen the adorable Football Buddy craft from Teri at A Cupcake for the Teacher: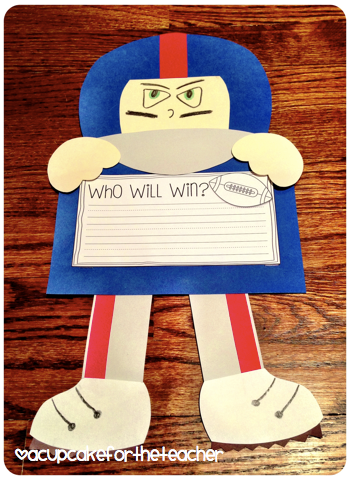 Well, I wasn't surprised by the excitement as soon as I showed  my Goobers the example I had made. When it came to the writing part of the activity, I didn't want them to just write who they thought would win. I wanted them to tell me why they thought they would win. Since most of my Goobs (and also me) don't know much anything  about the Ravens or the 49ers, I asked the resident experts "B" and "N" to tell us some real reasons why the teams could win the Superbowl. After some heated debates and Ms. Furlan reminding everyone "It's just a game." , we wrote our predictions and then put our Football Buddies together. They turned out sooo cute and just for a little extra fun, I put up a paper tablecloth I found at Wal-Mart to add an authentic background for our projects. Take a look…
As you can see, most of us are predicting the Baltimore Ravens will take home the trophy this year!
Since I wanted to keep the enthusiasm up about the Big Game, but I wanted to get some much needed Factors and Multiples practice in, I whipped up a football themed game that focuses on our current math chapter. The chapter feeds into Fractions, so I wanted to make sure my kiddos have a strong grasp on factors and multiples in order to help with equivalent and lowest terms fractions. Pray for me, please. J/k. Here are some shots of my Goobers playing away…
Do you need some extra practice for your kiddos? Take a peek at the game below:
Here is what is included:
*1 Gameboard
*25 Question Cards
-5 cards asking for the factor pairs of a given number
-5 cards asking for the GCF of two given numbers
-5 cards asking for the first 5 multiples of a given number
-5 cards asking for the LCM of two given numbers
-5 cards asking for students to determine if a given number is Prime or Composite
*Answer Key
*Directions for How to Play and Win
If you can use this *FREEBIE* in your classroom,
click the picture BELOW
and visit my TpT shop and download your copy for FREE! 🙂 
Have  a Happy Superbowl Sunday and a great week at school! 🙂